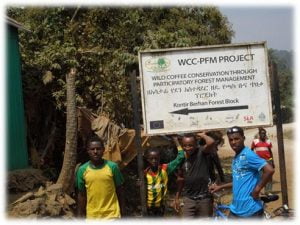 Wild Forest Coffee amounts to less than 5% of the Ethiopian coffee harvest. They are considered to be some of the worlds most spectacular and distinctive coffees.  It is said that by 2080 wild coffee will be extinct due to climate change.
The coffee grows naturally within the high plateau of rainforest in the South-Western region of Ethiopia, it enjoys unique flavour and nutritional advantages, growing wild under the rainforest canopy.  The coffee beans are hand picked by local farmers, on return wet-processed and dry packed.
The locals farmers are educated to pick the ripest red cherries from areas of the forest that are not domesticated at all, it is the purest form of cultivation.
As independent coffee roaster we are excited to be able to offer a very special Wild Forest Coffee from 'Bench Maji Coffee Producer Farmers Cooperative Union'.  Established in 2005 the Union undertakes careful governance of all areas of production.  Working closely to ensure full tracability of coffee from the region and promote and support livelihood of the local people.
The coffee is certified organic, and graded the highest quality available.
Limited availability – Notes of summer fruits with rich cocoa after tones.
You can purchase it now on our website: