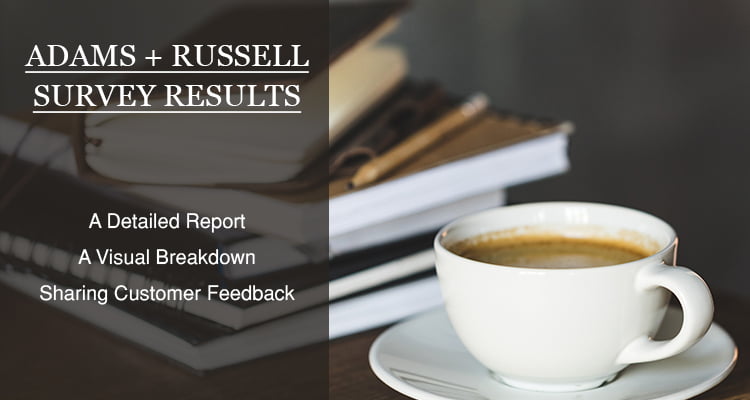 Are you drinking too much coffee? Read our survey results to find out, plus if you are using the most popular brewing method and why the people of Liverpool can smell our roasters.
Our customers are the most important part of our business. We talk enough about ourselves, so our team loves it when we get a chance to find out more about you.
We sent out an email at the end of last year to everyone on our subscribing list and we couldn't wait to see the results! We asked a few of our most burning questions and got some great answers in return.
We just want to take this opportunity to say a big thank you to everyone who took part in the survey. We are always looking to improve at Adams and Russell and want to give you the best service possible.
Analysing the Feedback You Gave Us
These results are so useful to understand our customers opinion on what is succeeding and what needs a little tweaking.
We have thoroughly analysed the results and found some really interesting points that we thought you might find interesting too. In this blog post you will find a break down of our findings and our plans on how we will use this data to create a brighter future.
How did you first find Adams + Russell?
We thought this would be a great question to start with to see how our customers were introduced to our brand. This is incredibly useful information for us. This is because it tells us what works and what doesn't when it comes to spreading the word of Adams and Russell!
The clear winner for this question was: Festivals.
The team loves getting the chance to meet customers at festivals and shows, it's such a great opportunity to get to know you. (The delicious food and drink is always a bonus too).
We are honoured to have attended so many fantastic shows and festivals this year and we hope this continues in the years to come. If you have never seen us at a festival, you can take a look at this sneak peek video of the Adams and Russell stall at the BBC Good Food Show last year.
Second and third was 'Google' and 'Internet', with 'Friend' taking fourth place.
We have to say that our favourite answers were those who said they came to us locally because they couldn't resist the smell of our coffee beans roasting!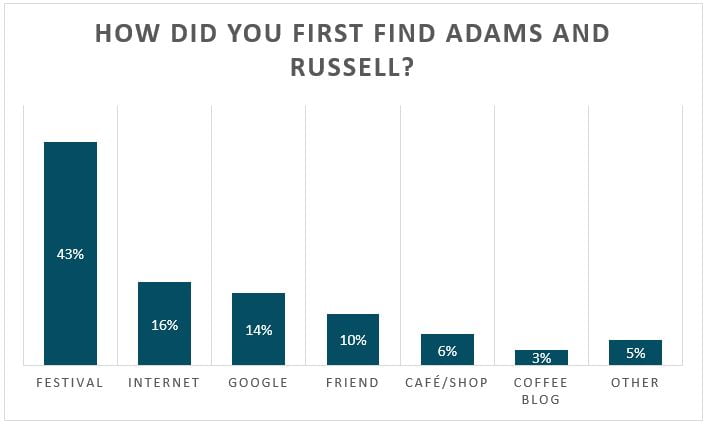 How Much Coffee Can I Drink?
'How often do you drink coffee?' was our second question, with another clear winner here: daily.
66% said they drank coffee daily, with only 1% saying never… that's what we like to hear! We're so happy to hear that our customers love coffee just as much as we do.
With more and more studies showing that coffee is good for your health (and apparently helps you live longer), we are thrilled to see the commitment to coffee drinking.
It has even been shown to help protect against Parkinson's disease, type 2 diabetes and liver disease, which you can read more about in our Coffee Question and Answers post.
The majority who stated a specific number claimed they drink between 1-4 cups a day. If this was you, we have good news for you!
Recent studies have shown that anything up to 3 or 4 cups of coffee a day could help you to live longer. The British Medical Journal published this experiment that shows coffee is more likely to benefit health than harm it.
Once we found out most of our customers were drinking coffee on the daily, we just had to find out how they were doing it…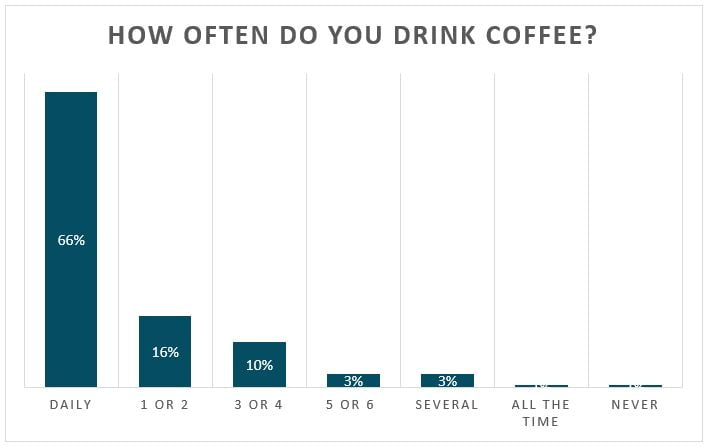 Coffee Brewing Methods
Brewing method is so personal when it comes to coffee. Everyone has a favourite and has their reasons.
Choosing a favourite brewing method can be just as difficult and important as choosing a favourite coffee. There are a lot of factors that go into this decision, such as:
Time – Some brewing methods are designed to save you time, perfect for you over sleepers who are always rushing in a morning.
Taste – Some have been specially designed to give the best or strongest flavour.
Quantity – You may want to consider if you just want to make a cup or two or a large quantity, as different brewing methods are suited to different quantities.
Budget – The scale of coffee makers is absolutely huge, and so is the price range. Ranging from value for money to extraordinarily expensive, there is a brewing method to suit you.
Here is a quick run down of the top 5 methods voted by you:
Espresso Machine
Home espresso machines are a great way to add that touch of professionalism to your coffee brewing. There are many different types of espresso machines which can have vastly different price ranges.
If it is a commercial coffee machine you are after for your business, you can find more information here about our machines and the five free services you will receive.
Cafetiere
A cafetiere is one of the simplest yet effective way of brewing fresh coffee. Its design is sleek and stylish, and its practicality is outstanding due to its portable nature and delicious results.
This method delivers a stronger cup in terms of taste and caffeine content as it does not pass through a filter. The taste has also been described as a lot cleaner due to the coffee only coming into contact with the glass.
Aeropress
The aeropress is a brilliant little device that uses the force of gravity to brew coffee. It is a revolutionary device created by Alan Adler in 2005.
It's combination of speed and great flavour makes it stand out from all other brewing methods on the market. It is simple, travel-friendly, easy to clean, inexpensive and produces fantastic results. You can read our Aeropress blog post to find a video tutorial, instructions for the inverted method and which coffee is best for an aeropress.
Bean to Cup
Bean to cup machines are designed to make coffee making the simplest it can be, by just pressing a button. There is a large price range when it comes to this method of brewing and in most cases, you get what you pay for.
Depending on the complexity of features you want, it is up to you on how much you are willing to spend. There are plenty of options on the market for a home brewing system dependent on your budget and requirements.
Some exciting features include frothing your milk, preheating your cup, soaking and grinding the beans and much more.
Filter Coffee
Filter coffee was the fifth favourite in the survey. There are many different filter coffee machines on the market at drastically different prices.
The main difference between this and other methods is the fine paper filter. Other methods such as a cafeteria has a mesh metal filter which allows some larger particles into the cup. This results in a slightly heavier drink and stronger taste.
Whereas with filter, it takes longer to brew as only the smallest particles are allowed through. This leaves you with a lighter coffee which some people much prefer. Neither is better than the other, it is just down to personal taste.
A huge bonus of filter coffee and why a lot of customers favour it is because of the consistency. The Adams and Russell Filter Coffee comes in weighed out sachets which gives you the perfect brew every time.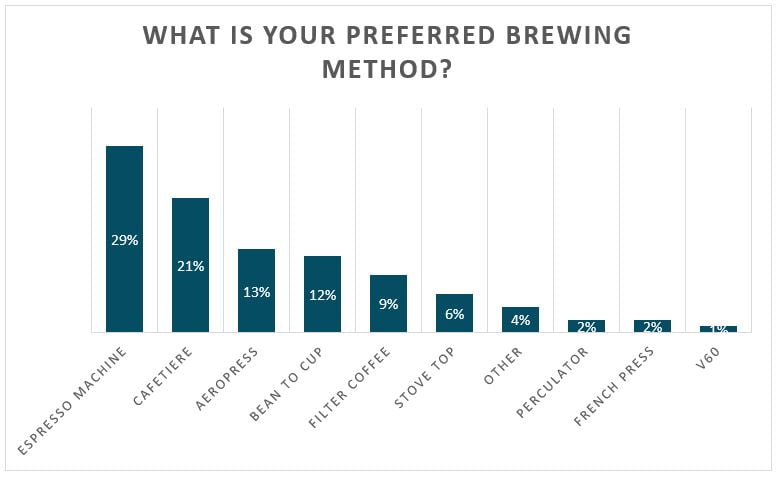 How Can We Improve Our Coffee?
We only want to provide the best for our customers, and we aren't just talking about our products. We know how important good customer service is and at Adams and Russell this is something we take great pride in.
We asked how important these five factors are:
The information available on the product page
Flavour notes and/or roast
Origin of the coffee beans
Price per bag/per KG
Coffee being fair trade and or/organic
It was great to get some feedback on what is most important to our customers, as all our efforts are to improve the customer experience.
We were glad to see that the flavour notes and roast of the beans were the most important factor, as this is the most important thing for us too. We put a lot of care and attention into our coffee beans to make sure they are roasted to perfection, and this certainly will not change!
The second most important was the information available on the product page. It is not just the beans that get all our attention, we also work extremely hard to make sure our website is the best it can be for our customers.
We continuously work to write more informative descriptions for our products to provide you with the most detail possible. From recipes, tutorials, videos, origins, tasting notes and much more. We will continue to make sure all our products are up to this high level of information.
 
A Big Thank You from Adams and Russell
Thank you to all our customers who have followed our journey so far and here's to a promising New Year. We are so grateful for all the feedback and have lots of exciting plans for the upcoming year.
Here are a couple of our favourite quotes which really stood out from the survey:
"Long standing customer of my dad's from back in the 90's and we followed on from there!"
"I could smell the best smelling coffee, so I went over to Adams & Russell, small unit and been a customer ever since."
"I live nearby and could smell the coffee roasting."