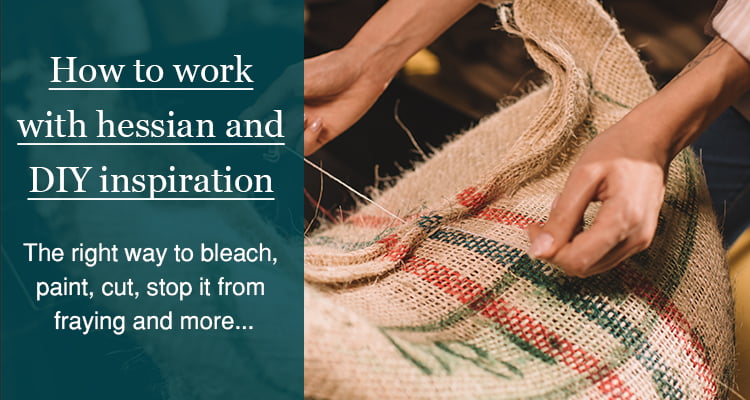 Get answers to the biggest questions asked about hessian and some inspiring ideas for creating your own designs at home.
At Adams and Russell, we admire the variation of fascinating coffee beans sacks we receive from all over the world every day.
As the pile of coffee bags began grow almost as tall as our roasting machine, we had a lightbulb moment; hessian DIY for our homes.
Each coffee sack tells a story and to have these designs in our homes is brilliant. That is why we have put together this post to share with you some of the designs and demystify the biggest questions around this versatile fabric.
Skip to our FAQs here:
Or get straight to the DIY inspiration here:
Hessian FAQs – How to cut it without fraying, paint it, bleach it and more…
Hessian is the perfect way to add a touch of rustic elegance to a room and give a countryside feel.
But yes, it can be very difficult to work with… if you don't know how.
Here are the answers to working your way around the trickiest parts of this material, so
there's nothing to stop you from creating a DIY masterpiece:
1. Can hessian be bleached?
Working with this fabric is all about experimentation. If you want to lighten the colour, try using a small amount of diluted bleach. If you want to be extra careful, test on a small
patch first.
2. Can hessian be dyed?
Does it just have to be a boring brown colour? Nope!
Make a magical multi-coloured woven rainbow.
When colouring, its best to start with a light colour to get the true shade you are aiming for. To do this, choose light coloured fabric or bleach it. Here are the 6 steps to achieving your colour dye dreams…
Cut the material a few inches larger than what you want it to be to allow for frayed edges (it will happen).
Choose a clothing dye and follow their ratio of dye to water. It is best to do the dye mixing in an old bucket outside.
Leave the fabric in the solution for however long the instructions state, but make sure to keep stirring to get an even colour.
If you want a lighter colour, leave it in for less time. If you want a really intense shade, try leaving it in a little longer.
TOP TIP: has it come out too dark? Rinse it under hot water to lighten it up. Is it just right? Then rinse under cold water to seal the deal.
Hang to dry outside.
3.      How can I cut hessian without it fraying?
Cutting hessian? Difficult? This is a concept of the past.
Step into the future of hessian where cutting is a breeze, here's the secret hack…
Lay out the material completely flat.
Decide where you want to make the cut and find a vertical thread that is placed there.
Pull out the thread (just trust us). You may need a needle at first, but once there is enough thread out just pull it out with your hands.
What are you left with? The perfect straight line for cutting that will cause minimal

fraying… take that unruly sisal fibres!
4.      How do I paint on hessian?
You've learnt how to bleach, dye and cut this fabric, but the fun doesn't stop there. Adding your own unique artwork to this material is possible, you just need the right paint and technique.
In this video, Candie Cooper recommends using the FolkArt Multi Surface paint, which is very affordable and works well on hessian.
When using a stencil, she recommends to always dab off the excess paint, so it doesn't run underneath the stencil. She also uses up and down stippling motions to get the best
result.
5.      Why does Hessian smell and how do I clean it?
Something you're not always told is that yes, Hessian does smell. It is a natural material made from the jute plant. But, freshening it up is easy. Here are 3 simple tips:
Leave it to hang in the fresh air all day to take away some of the smell.
Wipe it with a damp cloth and a little bit of soap.
Sprinkle some baking soda over it.
These are great ways to get rid of the smell, but if you want to wash the material, here's how:
Put it in the washing machine alone, unless you like having thousands of little beige fibres all over your clothes.
It will only need about half the amount of laundry detergent you usually use, so put this in.
Put it on the most delicate setting to avoid it unravelling and fraying.
Once its finished, try to avoid putting it in a tumble dryer. It is best to let it air dry. (It

will take a while to dry completely).
6. When was hessian invented?
Also known as burlap, it is made from the fibres from the jute plant. It acquired its name when soldiers from the German state of Hesse used it for their uniforms.
Jute has been used for many years in India, mostly for paper and rope. It first took off in 1739 when 100 tons of it were brought to Britain after discovering its potential.  Since,
many countries around the world have opened jute mills to manufacture this popular fabric.
Personalise your own hessian bags
Hessian bags are stylish, affordable and practical. They've become so popular that they have even made their way into stores, but why buy one when you can make your own unique bag that no one else owns?
Laura has been very busy in the Adams and Russell Roasters, here are some of her impressive bag creations…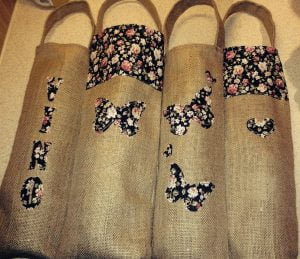 Floral print? Butterflies? Holds your wine? We'll take 10.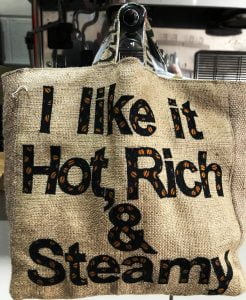 Well, we think this bag speaks for itself…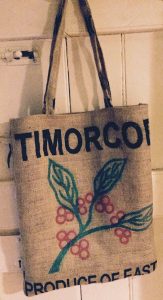 This might be one of our favourites. Creating your own hessian bag doesn't have to require complex designs. Make a statement by using the print that's already on the coffee sack for
an authentic look.
DIY hessian cushion and pillow covers
We love how hessian cushions instantly give an artistic and rustic feel to a room.
This sack came with our Rwanda Inzovu beans and we very impressed with this cushion DIY…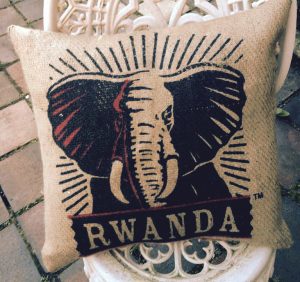 How sweet is this DIY hessian ring cushion? Head over to Save the Date for step by step instructions.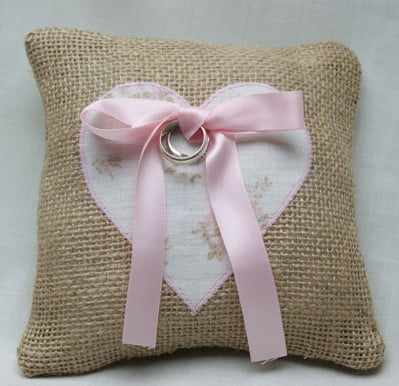 With a little patience and extra time, you could create something as stylish as these modern cushions…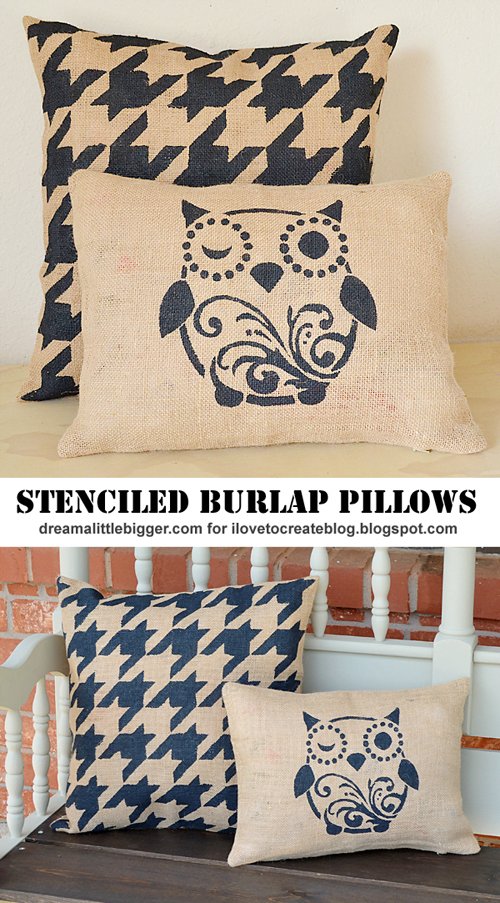 Ideas for making rugs out of hessian
Rugs are probably the easiest items to make from hessian, so we're definitely on board with this DIY.
Easy, practical and charming? The design may be simple, but it is very effective, and we love the use of the original coffee bag print.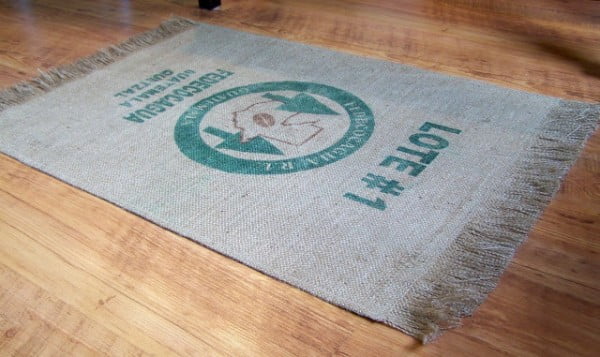 Not a fan of the frayed look? Add a stylish border around your rug to give a clean and sophisticated look like Fine Craft Guild.
Want to really test your design skills? This white and coral rug from Apartment Therapy will add a pop of colour and is perfect for Summer. (The tape isn't cheating, it's resourceful!)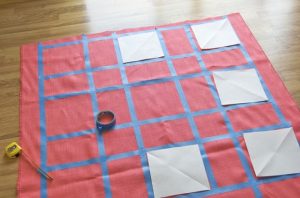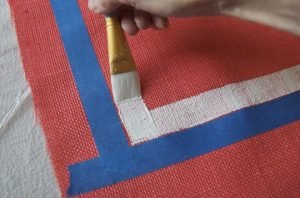 DIY inspiration for hessian lamp shades
The natural texture of hessian with light shining through it creates a beautiful effect and makes any room feel cosy. Give your living room a bohemian look with this DIY inspiration…
The combination of this beige material and light coloured lamp base creates a chic and modern design that would fit into any interior design.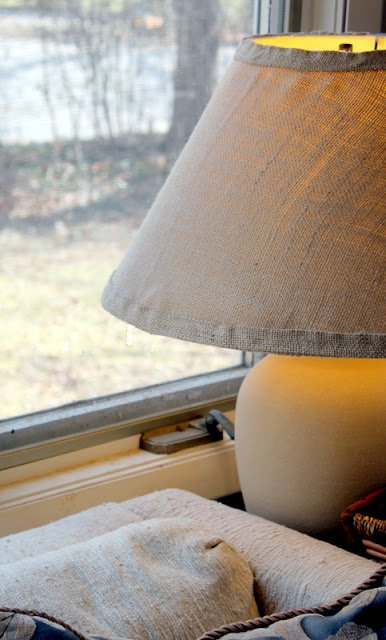 Spoonful of Imagination shows us how to create this stylish little lamp shade and you can customise it by adding whatever embellishment you like.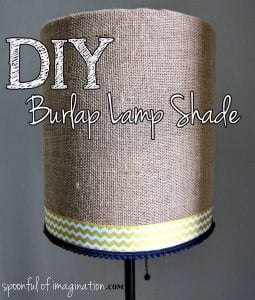 Artistic hessian home décor
The possibilities are truly endless when it comes to designing home décor with this material. It is such a versatile fabric and can be used to make all kinds of statements in your home. Here is what Laura has been up to in our Roasters…
How lovely is this design from our decaffeinated water process coffee beans sack?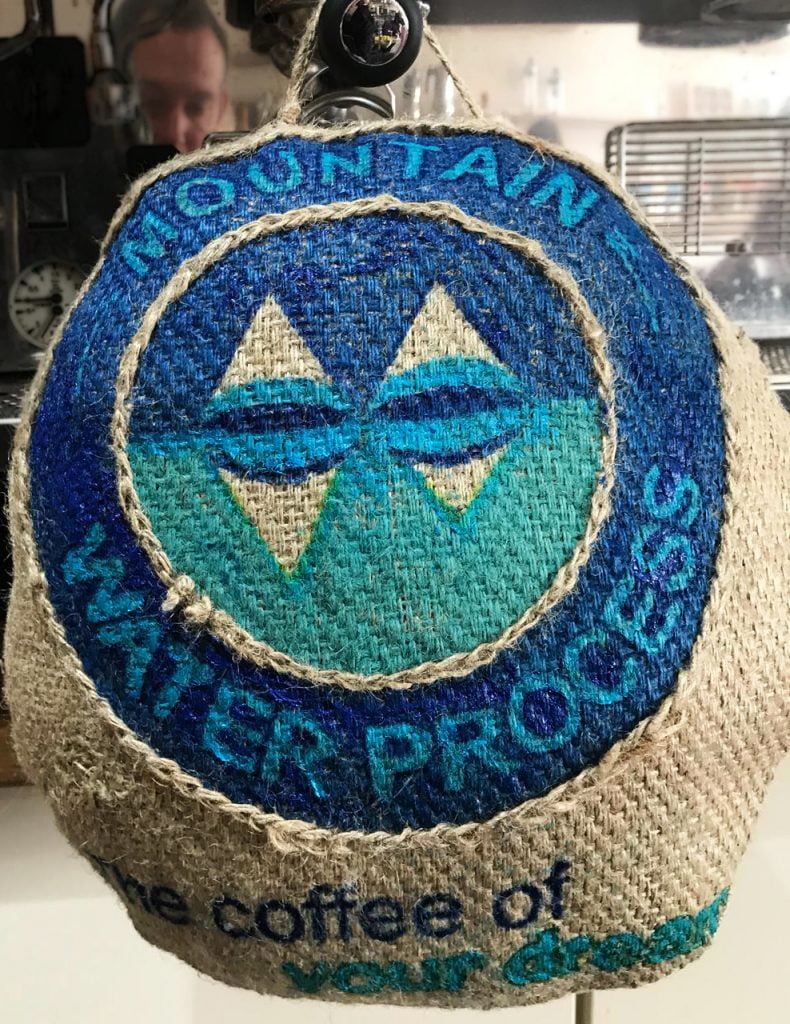 Who said draft stoppers have to be dull?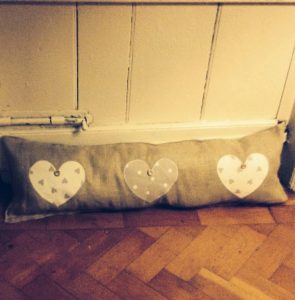 Everyone needs some art in their home and these and we're definitely inspired by this hessian art work that Laura has created: