Do you want to gift your mother something different this year other than a pair of pyjamas or slippers?
She always seems to love them, but perhaps you want to truly surprise her this year and give something a little more special.
This coffee and walnut cheesecake is a delightful treat for Mother's Day and is sure to put a smile on her face. It is creamy and indulgent without being too sweet. It is such an easy recipe that is so quick to make, but will look like it took you hours, perfect!
We used the Kenya Blue Mountain coffee beans which was great for this recipe. The floral aromas paired brilliantly with the rich cream and walnuts.

Ingredients for the Mother's Day dessert recipe:
For the base:
250g digestive biscuits
100g butter (melted)
For the cheesecake mix:
300ml double cream (whipped)
400g cream cheese
200g mascarpone
125g icing sugar
1-2 shots of espresso
Handful of walnuts (for decoration)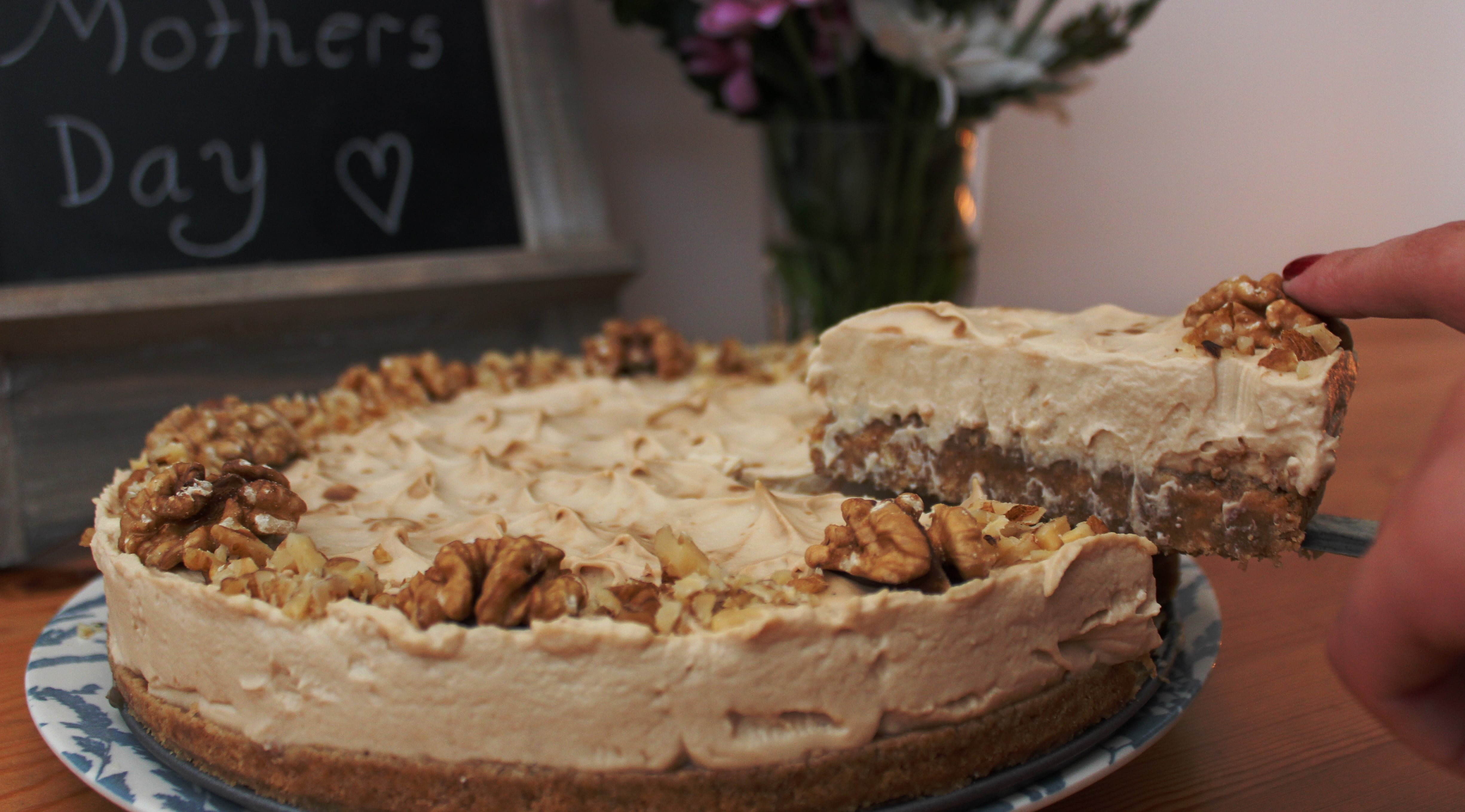 How to make a coffee and walnut cheesecake
Crush the biscuits into fine crumbs. You can use a machine, but if you don't have one a rolling pin to smash them in a bowl will work just as well.
Melt the butter and pour over the biscuit crumbs. Make sure it is evenly mixed in and completely combined.
I would recommend lining your baking tin with either greaseproof paper or a little butter, as I didn't, and it did stick to the base.
Pour the crumbs into the dish and flatten them down with a spoon or your hands.
Whip the double cream in a bowl.
Add in the cream cheese, mascarpone, icing sugar and espresso into the whipped cream. Stir together.
Taste the mixture to see if you would like any more coffee or icing sugar.
Spread over the biscuit base evenly.
For the pattern on top I poured on a few droplets of coffee and swirled it around with the tip of a knife. I then put a spoon on the surface and lifted it, creating little peaks. To add the splash marks, I simply splattered the remaining coffee all over (not ideal if you're wearing a white shirt, learn from my mistake).
Leave in the fridge overnight.
I then added a combination of crushed and whole walnuts around the edge for a more rustic look, but you can decorate however you like.
If you're a little adventurous, a love heart or the initial of your Mother's name would be a great idea.