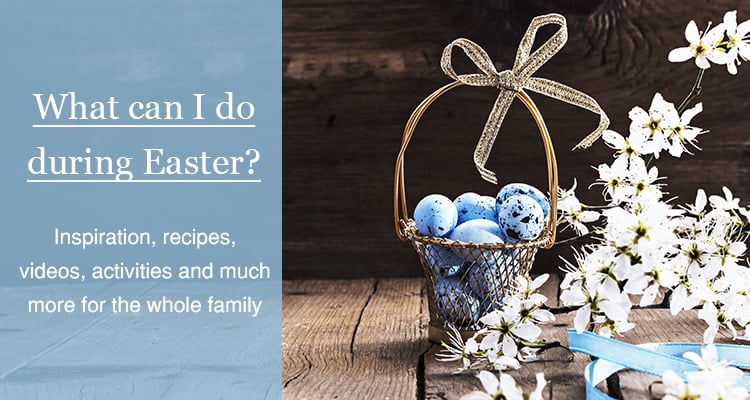 The Easter holidays are the perfect way to spend time with family and friends, but it can be easy to be stuck for inspiration.
In this article we have brought together all of our inspiration and tips for keeping busy during the Easter holidays.
We have included activities for children, adults, some delicious baking recipes and lots of other useful tips.
Also, keep reading to find out how to throw the perfect Easter party for adults.
Easter baking recipes – delicious hot cross buns
Hot cross buns are an essential at Easter and Spring time.
If you love them as much as we do, you may enjoy them all year round with a fresh brew made from high quality coffee beans.
But, have you ever tried home made hot cross buns? Neither had we, until now.
They are so much better than shop bought, you simply can't beat the freshness! It is also a really fun activity for Easter to bake with your family or friends.
This is a Mary Berry recipe from BBC Food Recipes and is one of the best we've come across, and they've made a really useful step by step video. There is commentary in the video, but we have written the steps in the method below.
You will need (for 12 buns)
 500g strong white flour, plus extra for dustin
75g caster sugar
2 tsp mixed spice powder
1 tsp ground cinnamon
1 lemon, finely grated zest only
10g salt
10g fast-action dried yeast
40g butter
300ml milk
1 free-range egg, beaten
200g sultanas
50g finely chopped mixed peel
oil, for greasing
For the topping:
75g plain flour
2 tbsp golden syrup, for glazing
Method:
Preheat your oven to 220C.
Mix together the flour, sugar, spices and zest in a large bowl.
Add the salt and yeast on opposite sides of the bowl (to help the buns rise better) and mix all together.
Melt the butter and warm the milk.
Add the butter and half of the milk to the bowl and mix.
Add the egg and then use your hands to combine.
Gradually add the rest of the milk as your are mixing with your hands until you have a soft, pliable dough. This may not require all the milk.
Put this ball of dough onto a lightly floured surface.
Pour on your dried fruit and knead into the dough until they are evenly distributed.
Lightly oil a large bowl, put the dough in it and cover with cling film. Leave for an hour and a half or until it has doubled in size. Mary recommends taking the dough out, giving it a quick knead and then putting it back in the bowl for a second rise.
Then take the dough out and put it back on your lightly floured surface.
Cut the dough into 12 evenly sized portions.
Line a couple of baking trays and lay out the buns, placing them fairly close together.
For the topping, mix together the flour and 100ml of water to form a paste.
Spoon this paste into an icing bag and draw the crosses onto the buns.
Then bake for 15-20 minutes or until a pale golden brown colour.
While they are baking melt the golden syrup in a pan and then brush over the buns once they are out of the oven.
Serve with butter and enjoy!
What to do in the Easter holidays – ideas and activities for children
Entertaining children can be challenging at the best of times, but during the two-week Easter holiday it can be especially difficult.
'I'm bored' is not an unfamiliar phrase that is presented to a parent… and is one you may face a lot during the Easter holidays.
Are you stuck for ideas to keep your children busy? (and not pestering you…)
We have put together a few great tips, tricks and ideas that we have found incredibly useful to keep children active and we hope you find it helpful too.
Firstly, we found this brilliant video from Helpful Mum:
She has 10 great ideas for Easter activities, some of which can be used any time of the year. Here are a few of our favourites:
Chocolate nest buns – Make some chocolate next buns with either shredded wheat or cornflakes and decorate with chocolate eggs. Compared to other cake recipes this has little mess and children love making things they can eat!
A boredom jar – Buy some large jars and decorations (stickers, ribbon, glitter etc) and decorate them with your children. Then fill them with little pieces of paper that have activites on such as 'ride your bike' or 'build a castle with lego'. Every time your hear the dreaded 'I'm bored', get them to pick something out of the jar.
Easter crafts – Have a look in bargain shops or online to find some Easter DIY craft kits. From making a paper chick to creating a pair of bunny ears, there's plenty to choose from.
Easter sports day – Who doesn't love a traditional sports day? Give it an Easter twist this year with games such as a bunny hop relay race, Easter egg and spoon race or an egg rolling race.
An egg hunt – This is like a 2 in 1, have fun decorating the eggs and then hide them for your children to hunt for.
Another great energy-burning idea is from Eats Amazing.
Print out this pdf of challenges and hide them inside plastic eggs. Your children will love hunting for them to find out what task they have to complete.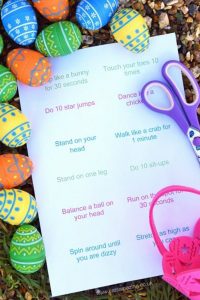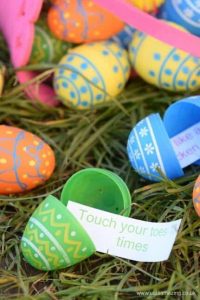 Things to do on Easter for adults
Easter is just for children, right?
Wrong!
Easter should be enjoyed by everyone with lots of fun packed activities. Making it suitable for adults just takes a little more creativity.
Change up the prizes
So, your friends probably won't thank you if you hide exercise challenges inside the eggs. Here are some much better prizes that will get everyone excited:
Nail polishes
Mini face masks
Chocolate
Mini bottles of alcohol
Bow ties
Cinema tickets or other vouchers
Spring cocktails
Cocktails always go down a treat and it's even more fun to make them with friends.
Experiment with different fruits and flavours to create fresh Easter cocktails, find some great inspiration Delish.
Secret Easter bunny
Like secret Santa, but with more chocolate!
Put everyone's name in a hat, pick one and buy an Easter themed present.
Wrap them up or hide them in eggs and exchange presents at the party.
Get creative
Decorating Easter eggs is surprisingly therapeutic. Get creative and design some more sophisticated eggs. If you want to add a competitive element, take a vote at the end to decide which design is best.