This recipe is perfect for the festive season. Serve as an after dinner treat with ice cream for extra indulgence or simply on its own. It is dense and chocolatey with just a hint of rich, dark coffee beans. This is the brownie for grown-ups.
Dark Mocha Brownies & Coffee Toffee Sauce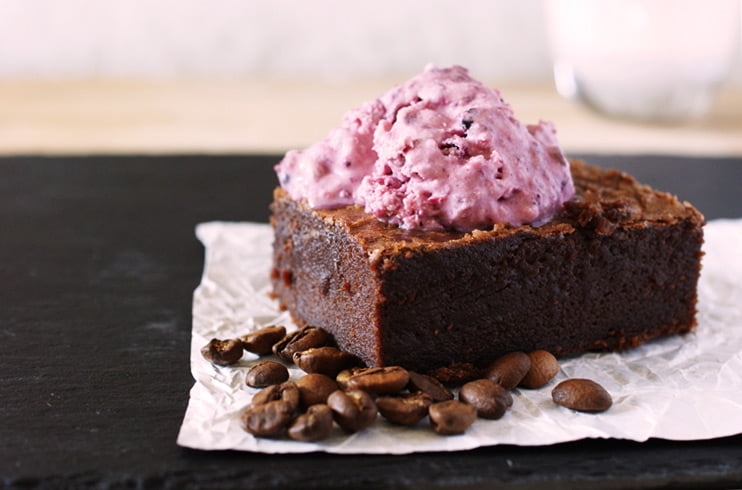 Brownie Ingredients:
185g unsalted butter
185g dark chocolate (at least 70% cocoa)
95g plain flour
50g cocoa powder
3 large egg
275g golden caster sugar
Strong coffee or coffee concentrate
Super Simple Coffee Toffee Sauce:
If you prefer to make your own toffee sauce, there are plenty of recipes here. Or, choose your favourite toffee sauce and add the desired amount of coffee concentrate.
Method:
Start by making a strong coffee concentrate or a very strong espresso. A mocha pot or an AeroPress is ideal for this. We used Adams + Russell's Indian Tiger Stripe as this has a naturally strong flavour. Let the coffee cool slightly.
Cut 185g unsalted butter into smaller pieces and place in a medium bowl. Break up 185g dark chocolate into pieces and add to the bowl of butter. Melt the butter and chocolate over a pan of simmering water. Stir occasionally until completely melted. Take off the heat and leave to cool to room temperature. Add a few spoonfuls of coffee concentrate to taste.
Turn the oven on to fan 160C/conventional 180C/gas 4. Using a shallow 20cm square tin, line the base with non-stick baking parchment. Tip 85g plain flour and 40g cocoa powder into a sieve held over a medium bowl. Shake the sieve gently to combine the flour and cocoa and get rid of any lumps.
Break the 3 eggs into a large bowl and add in 275g caster sugar. Whisk the eggs and sugar for 3-8 minutes with an electric mixer or a hand mixer until they look thick and creamy. You want the mixture to become pale and almost double in size.
Slowly pour the cooled chocolate mixture over the eggy mousse. Use a rubber spatula to gently fold the mixture together. Key here is to be gentle, as you want to keep as much air in the mixture as possible.
Once your chocolate mixture and mousse is combined, add the cocoa and flour mixture by re-sifting it over the bowl. Gently fold in the powder using the same technique as above. Combine until the mixture looks gungy and fudgy. Don't overwork the mixture.
Pour all of the mixture into your tin and bake in the oven for 20-30 minutes. After the first 20 minutes, keep an eye on the brownie as you don't want to over bake it. You want the top to have a shiny, papery crust and the sides to just begin to come away from the tin. Take out of the oven.
Leave the brownie to cool in its tin. Cut into portion sized pieces and serve.