You have taken the plunge and are now set to open the doors to your business. But have you done everything you can to ensure it's successful? This crucial post will allow you to put your business hat on and get on with all the important stuff that will help to drive your profits and boost customer satisfaction.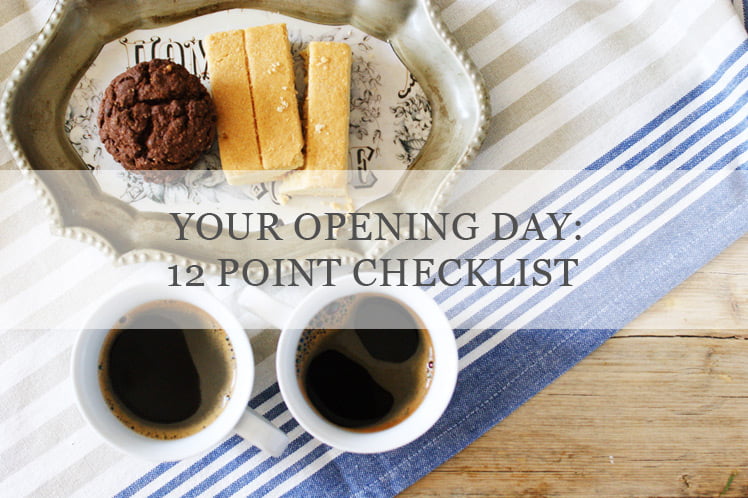 The coffee shop market in the UK is seeing impressive growth. With coffee consumption now being fuelled by an interest in artisan, high-quality coffee beans, independent coffee shops and cafés can reap the benefits of this growing appreciation.
Unfortunately, the consumer's love for coffee is rarely enough for your business to thrive. To help you on your way, we have created a checklist to use in preparation for your opening day. This list is based on our experience in supporting clients entering the UK café market, and backed by experience gained over 40 years in the coffee roasting industry. Read the full post to benefit from all our know how, or download the super actionable list here for your last minute checks.
Service & Equipment
1. KNOW YOUR MENU
Ensure the whole team knows and understands the menu. Do go the extra mile and memorise not only the basics, but also keep common allergies and gluten/dairy free options in mind. Thorough product knowledge will help your team up-sell and recommend menu combinations, even when there might be allergies or special requirements involved.
2. TRAIN YOUR TEAM
Make sure your team knows how to use kitchen equipment and coffee machines. The more they know, the more confident they will be when taking orders and serving your customers. Also, ensure everyone in your team receives the same training (when relevant). This will unite the team and help avoid any unnecessary friction.
Processes
3. KNOW THE CUSTOMER JOURNEY
Knowing your customer's journey will help you get your processes into place. Write down the ideal journey, step one being the customer entering your store or café, and last step being the customer leaving. What feeling would you like your customer to leave with? How can you create this feeling throughout the visit? The steps in between will most likely consist of taking the order (supported by up-selling/recommendations), taking the payment (what payment options will you provide?), preparing the order and serving it. Don't forget to include routines around clearing tables.
4. EFFICIENT ORDER TAKING
Ensure you have a clear order process for the whole team to follow. If you are in a busy location, it might help to study the ordering process of a big chain to make yours as efficient as possible. Take note however, no one enjoys waiting for longer than necessary, so even a small coffee shop should have a clear and effective process in place.
5. KEEP IT CONSISTENT
Give your customers something to expect and come back for. It's a good idea to update your food and drinks menu according to season, but try to keep a couple of staple dishes or drinks on there. Make sure you know these really well, and that quality is kept consistently high so that your customers have a specific reason to come back.
6. ASK FOR FEEDBACK
Asking for feedback can seem daunting, but understanding your strengths and weaknesses can make all the difference. It allows you to keep doing what you do well, it can give you the upper hand on your competitors and even more crucially, improve based on your customer's experience.
Marketing & PR
7. THE LOCAL PRESS
It doesn't matter how much you have prepared or planned if no one knows you exist. Unless you are located on a busy high street with plenty of footfall, it is crucial that you let your local area know where and who you are. Contact your local community association or local paper and make yourself known to other businesses in the area as they could become valuable contacts.
8. APPROACH BLOGGERS
Depending on your location, it may well be worth searching for local bloggers in your area. When you find bloggers that seem to have decent following (tip: look for the number of comments on their latest blog posts, the more the better!) and introduce yourself. Invite one or a few bloggers to a pre-opening event. You don't necessarily need a big budget for this kind of event. Keep it simple, interactive and informative – this will help the bloggers to gather enough content for a good blog post.
Examples of blogger event ideas: Invitation to learn about your story and sample your menu OR invent/create their own version of your staple drinks or dishes. Make sure to prepare a good spot for photos to be taken.
9. SPECIAL OPENING DAY OFFER
Make it special. If you don't have a big budget to spend, create something odd, fun or quirky for your customers to talk about. Think along the lines of freak shakes, quirky desserts or unusual ingredients.These can also offer great potential in terms of brand awareness. Encourage your customers to take and share pictures. You can even offer a certain discount or freebies in return for customer check-ins on Facebook.
10. ENCOURAGE CUSTOMER LOYALTY
Big corporates like Costa or Starbucks don't offer loyalty cards just for the sake of it. Loyalty cards can be a great way to encourage customers to return. From a business perspective, retaining current customers costs a lot less than acquiring new ones. This doesn't have to be difficult or time-consuming, but try to keep it personal and linked to your brand.
11. ADD BUSINESS TO TRIPADVISOR
Adding your business can not only help you collect and review important feedback, but will also help you reach more potential customers. It is worth spending a bit of time on optimising your Tripadvisor page. Add good quality photos of your coffee shop and of your staple dishes and drinks. Also, make use of the description to let customers know who you are and what you are about.
Follow Up
12. FEEDBACK
We mentioned the importance of gathering feedback earlier in this article. However, no feedback will help you unless you act on it. Review your feedback and prioritise what needs to be acted on first.
13. LOCAL PRESS & BLOGGERS
Don't let your hard work go to waste. Always make sure you include follow-up work in any marketing activities you do. This will help you understand how well it went and what you can do better next time. Following up can also help you get the most out of your opening day. Did you get coverage in the local press? Did the bloggers you invited show up? If so, send them a short thank you email or give them a call a few days after your event. This nudge and gentle reminder can help you get the coverage you deserve.