These hot Christmas drinks are perfect as a warming treat after dinner. The hot coffee, warming cognac, smooth meringue and sweet, Christmassy flavours of cinnamon and vanilla is a great, adult alternative to the traditional desserts.
Allow 15 minutes of preparation time, as well as 15 minutes for the cognac to 'set' in the freezer.
Let's get to is, shall we?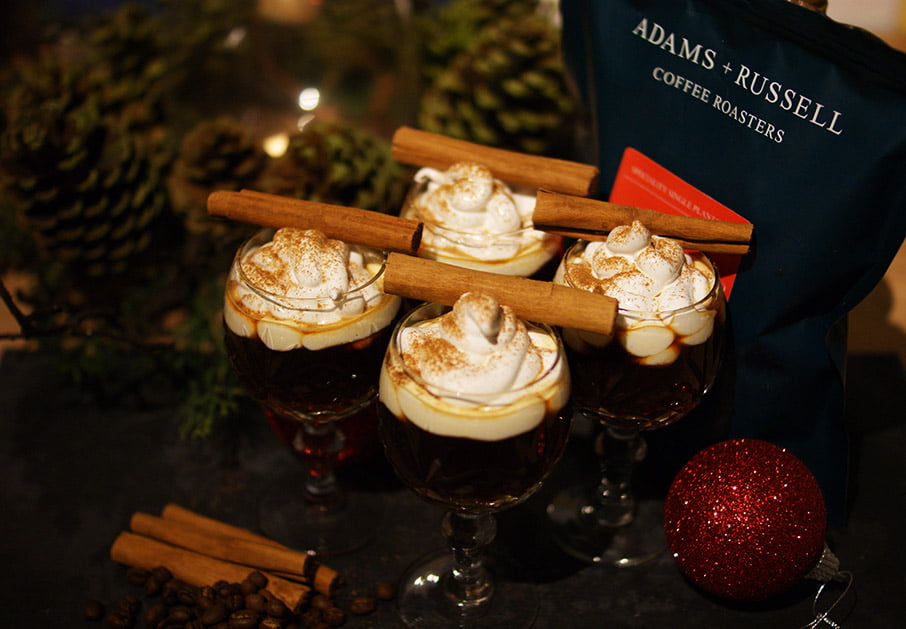 Recipe for 10 'hot shot' Christmas drinks
Cognac
20 cl of cognac or brandy
2 cinnamon sticks
1 vanilla pod
200g caster sugar
Meringue
2 large eggs (egg white only)
200g caster sugar
Coffee
200ml of espresso or strong coffee
We used the Adams + Russell Christmas Blend for this recipe.
Instructions
Gently heat the cognac in a small pan together with the cinnamon sticks, sugar and vanilla pod. Do not allow to boil. Heat until the sugar dissolves and then take of the hob. Put the cognac mixture in the freezer for 15 – 20 minutes or until it reaches a syrup-like consistency.
Make the meringue by tipping the egg whites into a large mixing bowl. Beat them with an electric hand whisk until the egg whites resemble a fluffy cloud and stands up in stiff peaks when the whisk blades are lifted. Slowly add the caster sugar a little bit at a time until you have a smooth and glossy meringue.
Make the coffee using your preferred brewing method, we ground some fresh coffee beans before brewing.
Assemble your drinks right before serving by pouring 2cl of cognac mixture into small glasses, such as shot or Sherry glasses.
Slowly add 2cl of Espresso coffee, then add the meringue on top. You can use a dessert spoon or piping bag for this.
Use a kitchen blow torch to caramelise the meringue, or add a sprinkle of cinnamon. Then serve.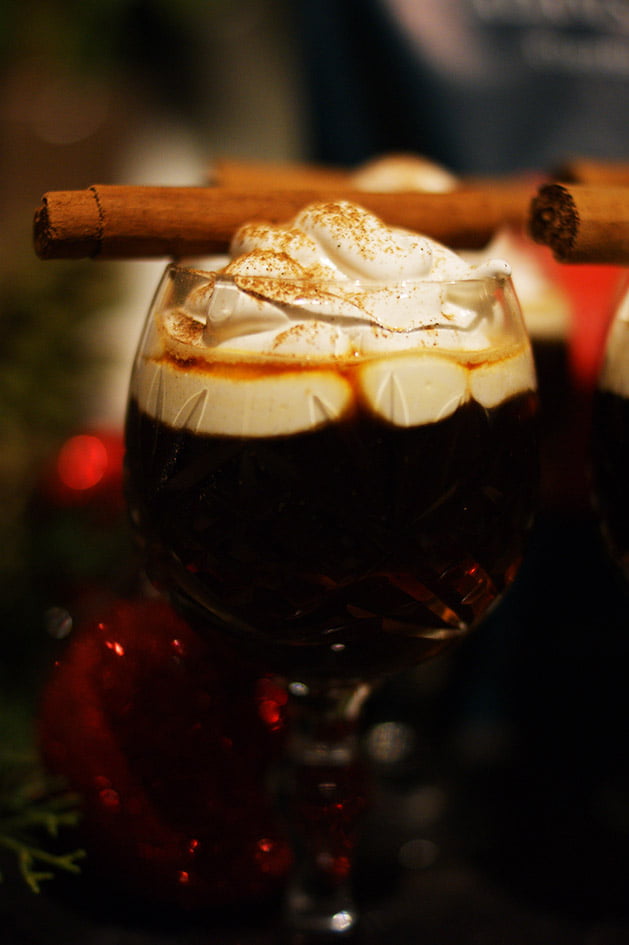 Enjoy! We certainly did!