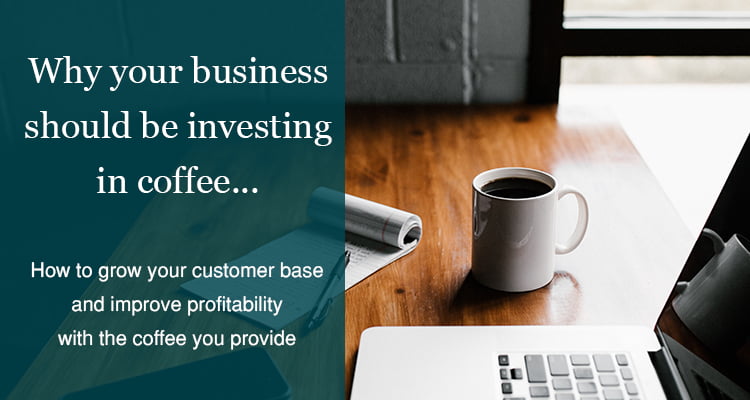 Do I need high quality coffee in my business? Should I even offer coffee at all?
How is it going to benefit me and my customers?
In this guide find the top businesses that should offer excellent coffee – and why. There are plenty of benefits for your business, and we're certain you won't look back after investing in high quality, delicious coffee.
It is one of the healthiest ways to get your caffeine kick, has been proven to improve mood and concentration and research shows one single cup can increase your physical performance by 12%.
Keep reading to see if your business should be providing the goods and how it will help you attract more customers.

Why businesses in the hair and beauty industry should provide good coffee…
Not only is coffee a tool to build relationships with customers, keep them coming back and recommending you to friends, it also has many benefits for our skin and beauty…
Antioxidants – This drink is packed full of them which helps boost the skins natural defence against pollution and can be responsible for skin cell energy preservation.
UVB protection – It has been shown that coffee contains DNA damage response which can help protect your skin against harsh sun ways such as UVB (short wave ultraviolet B).
Energised skin – It can promote healthy looking and energised skin due to its blood circulation promotion.
Smooth and bright – Due to its role in regulating cell re-growth, it can lead to retained hydration and increased skin elasticity.
If they aren't enough reasons to invest in high-quality coffee in your beauty establishment, find out how it can bring in more customers…
Add value to your hairdressing business
The world of hairdressing is a competitive one and local salons use a variety of marketing techniques to stand out from the crowd.
Loyalty is everything when it comes to a hair salon, with 59.3% of consumers in the UK stating their loyalty is based on a good relationship with their hairdresser.
An easy way to improve your customer service and add value to your business is to offer drinks to your clients.
This is the first step.
You've offered a coffee to you're a potential long-term customer that is looking for their new regular hairdressers. They've barely touched it because it's bad quality with terrible or no flavours. Will they return?
If they are looking for a premium experience where they can relax and indulge for a couple of ideas, this may have a hindrance on their likelihood to return.
Maintain your loyal customer base and gain new ones with a high-quality range of fresh coffee. One of our most loyal clients, k2 Hair Design, a hairdressers in Wolverhampton, has had many compliments from customers since serving our coffee in their salon.
The benefits of offering a drink in your nail or beauty salon
As well as boosting the creativity of your nail artists and improving the concentration of your masseuses, offering coffee is an added value that will keep customers coming back for more.
If you're looking to grow your client base, lowering prices does nothing for your long-term success.
Research shows that clients are usually motivated by rewards for their loyalty and not just savings.
Being able to offer a delicious cup of coffee is the perfect way to relax customers and build long lasting relationships.

Should agencies provide good coffee?
Of course, there are many factors to working with an agency; relationship, values, cost, quality of work, etc…
But, we all remember that one agency that has exceptional coffee, don't we? Be that one agency.
It is just another simple way to stick in the mind of your existing and potential customers. It is also a helping hand to making a brilliant first impression.
You've nailed the introduction, established a good relationship with the client, shared interest in the potential work you could collaborate on… all for them to sip a bleak cup of bitter coffee that leaves a bad taste in their mouth (literally).
Online Growth Guru, Manchester prides themselves on serving great quality coffee from Adams + Russell
Promote creativity in your design agency
Working for a design agency has its perks, such as being part of a creative team, showcasing your ideas and putting them into practice.
Coffee is a great way to boost creativity and get your artistic juices flowing.
In scientific terms, it creates stronger and longer lasting signals between neurotransmitters in our brains. This means we are much more likely to make connections between pre-existing ideas, which can do wonders for brain storming and designing sessions.
So, if you're looking for a new approach in your design agency to bring everyone together and conjure up some fresh, creative ideas, investing in some high-quality coffee is a delicious idea that will be very popular in the office.
Increase concentration in advertising agencies
The world of advertising is changing by the second and the biggest part of your job may be trying to keep up.
Make the most out of your team by investing in premium coffee beans. Boost creativeness on a daily basis and improve focus and concentration and the technical aspects of your role.
With a global advertising expenditure forecast of 557.99 billion dollars in 2018, it may seem like more is needed than innovative ideas to impress clients.
If your client has a long list of ad agencies that are on a similar par that they are looking to whittle down to just one… could your outstanding coffee selection triumph? If they're as passionate about coffee as you are, quite possibly.
The many benefits of coffee for a marketing agency
Marketing agencies; the strategies, PR, social media, web design and other marketing activities all under one roof.
Reigning all these roles in and collaborating your team can be difficult at the best of times.
With science proving that caffeine:
Increases alertness
Improves focus and concentration
Allows you to learn quicker
Reduces stress
Coffee breaks are a win-win situation for you, your team members and clients.

What kind of coffee should health and fitness companies provide?
Coffee contains a neurotransmitter called dopamine. This chemical stimulates are brains and promotes pleasant feelings, making you feel more positive.
Not only does the beverage have calming effects, it has also been proven to improve our health:
A study shows that participants that who increased their coffee consumption by at least one cup a day saw a decrease of 11% in their risk of developing type 2 diabetes (over a four year period).
Researchers found when studying thousands of people that those who drank two to four cups a day had a lower risk of stroke.
It has been shown to reduce the risk of heart attacks by reducing the risk of developing atherosclerosis.
Harvard conducted a study that saw a lower risk of depression in those who four or more cups a day compared to those who drank little or none.
Read more about how coffee affects our health here.
Retain gym-goers by offering a delicious cup of fresh coffee
Trained athletes who consumed caffeine pre-workout burned off around 15% more calories compared to those who took a placebo, according to scientific research.
If this isn't enough to entice new customers to your coffee-offering gym, here are some more benefits that are sure to bring them in:
Experience a better workout with improved circulation that coffee aids with.
Caffeine has been shown to reduce perceived pain during high intensity workouts.
It can help retain memories which is useful when trying to remember specific workout routines or postures.
Not only is caffeine ideal before the gym, it is also the perfect way to relax after a workout.
A recent study shows that a caffeine and carbohydrate combination after the gym resulted in a 66% increase in muscle glycogen, which will allow you to work even harder in your next work out session.
It isn't common for your local gym to offer coffee, or at least fresh high-quality coffee rather than an instant machine. Find your unique selling point and keep loyal customers happy with this addition to your gym.
Promote relaxation and luxury in your spa
Robert Maconi, founder of Elysium Salon & Spa, tells us:
"next time they come in, surprise them with their favourite drink, the exact way they like it made. A specific business once kept me coming back for 9 years using this very practice."
Spas are a tranquil space that should be the definition of peacefulness and relaxation. Serving premium coffee is a definite way to add a luxurious element to your customers visit and keep your spa in their mind.
It is also a great way encourage recommendations and build long lasting relationships.

Providing excellent coffee in the hospitality industry – Is bad coffee losing your hotel its business?
75% of guests deemed their hotel room coffee as poor quality, with over a third saying it would affect their decision on returning to the hotel, UCC Coffee tells us.
They also state that hotels would benefit from repeat business and increased profitability when investing in better quality coffee for their rooms and other areas.
So, it is clear that good coffee is great for business in hotels.
But, how do you choose the perfect blend? Navigate through our wholesale catalogue here or contact us to get some expert advice.
Why restaurants need to invest in fresh coffee
A recent survey found that around 25% of the UK enjoys coffee in shops, bars or restaurants. With 95 million cups being consumed every day in the UK throughout 2018, this is a huge amount of people.
So, how does your coffee stand out? Are you taking full advantage of this massive market?
Of course, food is the main focus at your restaurant, and coffee may be further down the list. However, it is something to invest more into if you're looking to increase repeat customers and profitability.
Customers will come back for delicious, high-quality coffee, but it also encourages other purchases. Offering speciality coffee will entice customers to stay after their meal and perhaps indulge in other drinks on the menu or a dessert.

5 reasons your office should invest in excellent coffee
For the benefits you receive, coffee is an inexpensive way to improve the working environment and productivity.
Staples conducted research that resulted in 84% of workers feeling like their day hasn't started until they've had their first cup.
Here are five more reasons to invest in good coffee in your office:
Networking – coffee breaks encourage socialising and networking in the office, which can bring your team together and a is a perfect way to brainstorm in a relaxed environment.
Productivity – caffeine has been proven to boost productivity and alertness.
Health ­– it is good for your health which is important for your team members.
Clients – It won't just benefit you and your team, it also makes a great impression with your clients.
Quality – although it is beneficial to invest in this beverage, try not to go for poor quality. This may have a negative effect on staff if they don't enjoy it or want to drink it.
Should I buy a coffee machine for my business?
Hopefully the benefits of investing in this perk for your business and customers is clear. So now you see the importance of this investment, do you need to purchase a machine?
It depends on the type of business you have.
If you have a large team and you will need to make several cups on the go, commercial filter coffee machines are a good idea.
Filter coffee is an easy way to get consistently high quality every time, which is perfect for those who don't want to spend much time or effort brewing. Read our consistent filter coffee guide to find out more about creating a delicious cup every time.
If you are looking for a less technical option, there are plenty of large cafetieres that are convenient for a business environment. Take a look at our full range of cafetieres to find a style for all tastes and requirements.
Are you interested in creating speciality coffees such as lattes, cappuccinos, mochas and more? Then you may want to invest in a commercial espresso machine. Get in touch to find out more about the machines we offer. With it you will receive:
Free installation
Free barista training
Free after sale support
Free machine cleaning tools
Free expert advice