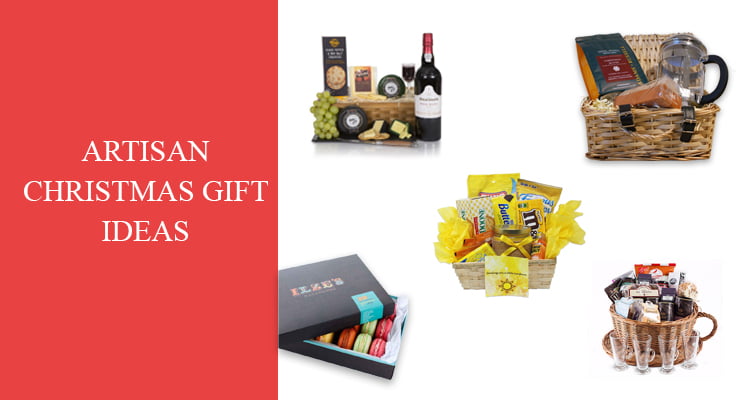 If you're struggling for gift ideas this Christmas, we have the perfect list of artisan hampers and selections right here in this article.
There's nothing better than supporting your local artisan suppliers during the festive season. All it takes is a bit of time to head down to your local markets. There you can seek out the best produce or food gifts for your friends and family.
Be careful though, when you're buying food as a Christmas gift, you will need to buy it at just the right time and store it in the best place – usually a cool, dark place. That way you can make sure it doesn't go stale before the big day arrives.
If you want to find out how to know whether you are really buying Artisan or not, read our guide called Artisan Food Definition – What is it? How is it made? What does it mean?
If you just want to find a market near you, then search in Google for your nearest artisan markets or find a website which lists the dates of a specific market – such as The Market Co
Before we get into the Artisan Christmas gift ideas, we have a little something to share with you.
Introducing our Artisan Christmas Blend Coffee
We couldn't give you our ideas without sharing our Artisan Christmas Blend coffee beans with you.
You can buy them in 227g bags or 1 kilo bags and they are hand packed with special care and attention. They are roasted fresh daily and made up for each order received.
These beans are perfect for adding to a hamper or gift selection that you are making up yourself.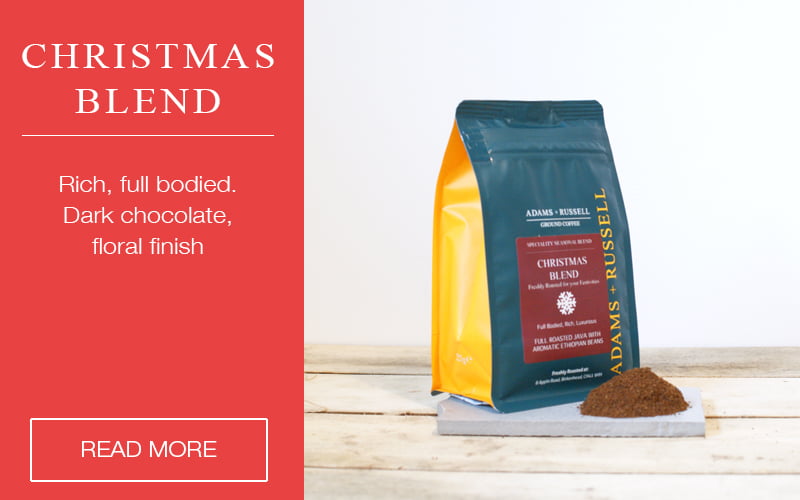 Now, let's dive into the list of Christmas gift ideas.
Artisan Food Christmas Hamper Gift Ideas
Often the best and most cost-effective way to create a luxury hamper at Christmas is to buy the wicker basket and red tissue paper separately. Then select your desired items from small, local businesses.
Here are a few types of hamper to get your ideas flowing.
Christmas Coffee Hamper Gift
Where best to start than the perfect Christmas coffee hamper. All these luxury coffee accessories are available right here on our website too.
The number of people buying real coffee in the UK has continued to sky rocket. That's why this hamper will be the perfect gift for anyone who drinks coffee daily.
If you really want to take it that step further, you could even roast your own green coffee beans from scratch. Make sure you only buy the best green beans raw and unroasted (i.e. from our website).
What exactly goes into a coffee hamper?
Well, take your pick. You can add roasted coffee beans, a cafetière, or even some smaller accessories such as a mini hand grinder.
Why not posh it up with some additional luxury artisan biscuits too?
Here's a list of items (with links), which we think will be perfect in your hamper:
Then choose between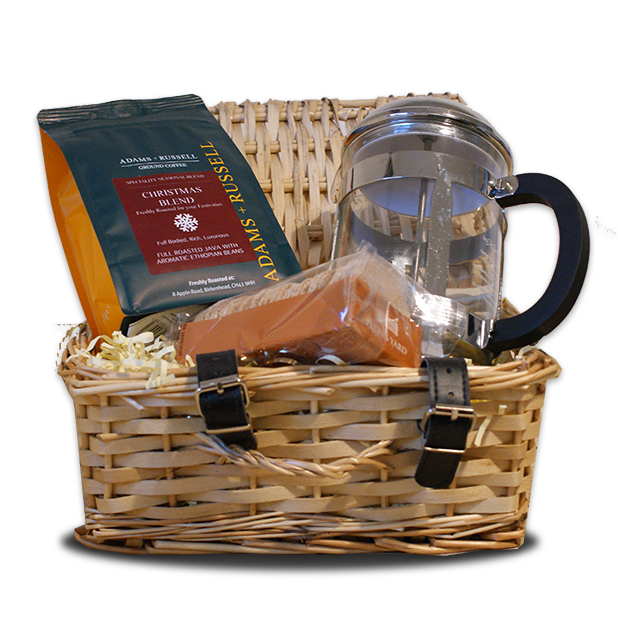 Artisan Christmas Tea Hamper
If coffee isn't right, then there's always the option of creating a Fresh Tea Christmas hamper. The nations favourite drink has seen a continuous growth in the use of fresh tea leaves and shows no sign of slowing down. So if you know someone who drinks tea on a regular basis, then you could give them a selection of Adams + Russell's Christmas Tea.
To bulk up your hamper, you can add teapots and tea accessories. So, here's a list of options for you to choose from when deciding what to include:
Christmas Infusion
Christmas Black Tea
Christmas Green Tea
Then there's the accessories:
Tea Infuser Perforated Spoon
Tea Swizzle
Copper La Cafetiere Teapot
Artisan Cheese Christmas Hamper
Possibly the most popular type of hamper bought at Christmas. There are literally hundreds (maybe even thousands) of cheese variations available in the UK. You will never be short of local cheese.
When you make it up yourself, you can even invest in a few small items that go great with cheese, such as a Swedish cheese plane or a small cheese board.
Here's a list of different cheeses you should include your hamper:
Blue Creamy Cheese
Camembert Cheese
Local Cheddar
Smoked Cheese
Flavoured Cheese – garlic & herb
Then there's the accessories
Cheese plane
Small Cheese board
Cheese knife
Cheese grater
Image from Hamper.com
Cheese courtesy of Snowdonia Cheeses
Artisan Hot Cocoa Christmas Hamper Gift
Although we talk mainly about coffee across our website, it's not all about coffee (hmm hmm).
So, if you're buying for a teenager, it's highly likely their taste buds will be geared much more towards chocolate.
Making a sweet cocoa hamper doesn't take too much effort. You simply need a few ingredients that add an extra punch for anyone who wants that next level hot chocolate.
Here's what to put in your Artisan hot cocoa hamper: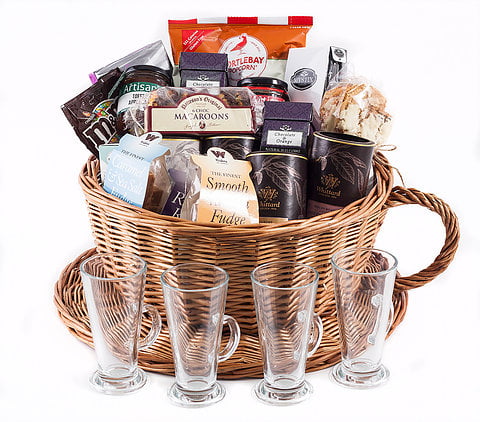 Colour Coordinated Hampers
Colour co-ordinated hampers look brilliant on social media. So if you want your gift to be appreciated on Instagram, this is the one for you.
Does your loved one have a favourite colour as well as a favourite food? Then you should try creating a colour co-ordinated food hamper.
Everything red? Everything blue? Everything yellow? The opportunities are endless when it comes to finding colourful foods.
Simply head down to your local markets and search the stalls with your desired colour in mind.
It will work best if you do a bit of planning beforehand.
For example, you might want to base the theme all around your local football team. That way you will know which colours you want before going out to find your food items.
You might choose to expand your gift to more than just food, for example, a colourful mug or colourful packaging.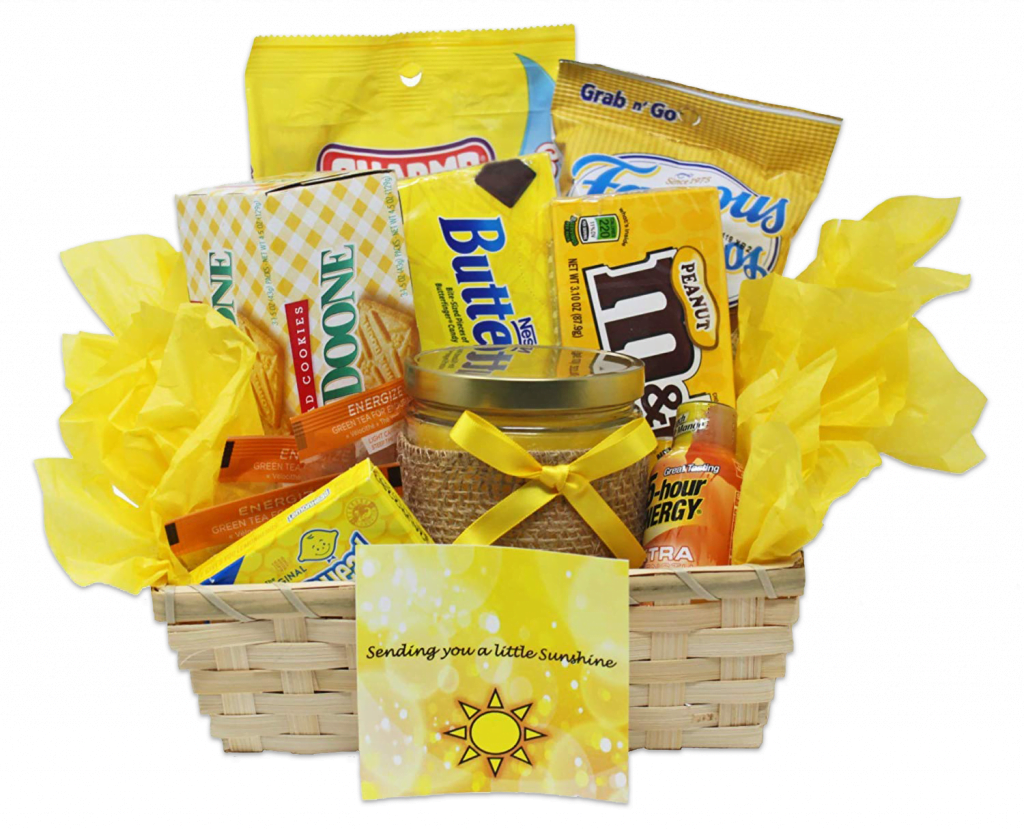 Artisan Food Christmas Selections
What you buy doesn't always need to be in a hamper. You can simply seek out a great selection of local food items and wrap them up in a box or a bow.
Here are a few ideas of gifts you can give out when choosing to put your selections together.
Macaroons Selection
Handmade macaroons are often seen as a moment of luxury. They have rocketed in popularity over the last few years.
The perfectly round, colourful shape makes these indulgent treats a gift to remember. They also look lovely on Social Media.
You could try to make these yourself and go real artisan. If you do want to make them yourself, it's best to find a recipe which has ratings against it – Such as the BBC Good Food's Macarons Recipe – so you know your baking attempt has a better chance of success.
Alternatively, there are many websites where you can purchase a selection box of Macarons. Such as Ilze's Gift Box Macaroon Mix.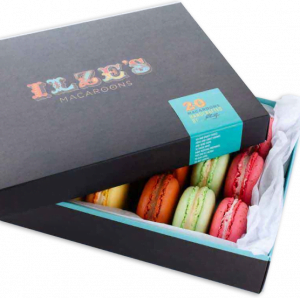 Breakfast selection
Who doesn't love a good breakfast on Boxing Day Morning. After all, it is the most important meal of the day. Especially if there's been a few too many sunk the night before.
Things you can add into your breakfast hamper might include:
Fresh tea leaves
Artisan jam or spread
Fresh ground coffee
Artisan made granola
Breakfast Pastry's or fresh bread (be careful on this one though because you want to make sure they stay fresh)