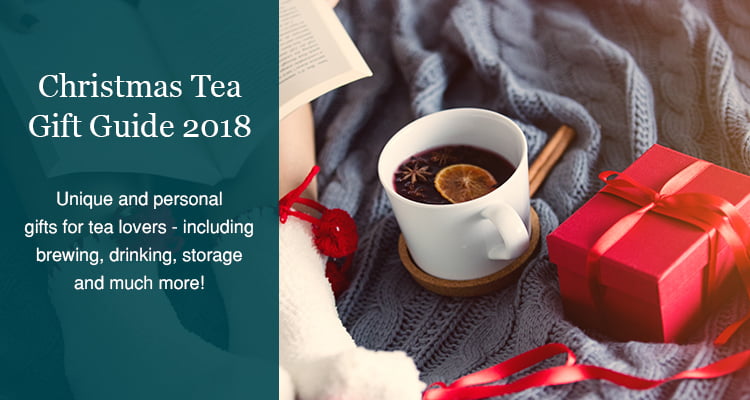 16 Tea Christmas Gifts UK – Unique & Unusual Presents for Tea Drinkers
In this easy gift guide you're getting 16 of the best presents for the tea drinker in your life.
We know how hard it can be hard to find unique inspiration and ideas for the person who seems to have everything.
That is why we've included a wide variety of options with some brilliant surprises which are sure to excite your friends and family on Christmas Day.
For easy navigation, we've split the guide up into four sections. Simply click on a category below to skip to that section…
Gifts for premium brewing
If you're a tea enthusiast, you'll know the importance of brewing.
If you're not a tea appreciator and are simply browsing gifts for the brew connoisseur in your life, then trust us…
It's important!
Brew time, water, device, leaves, infuser… it can get complicated.
That's why you probably want to find a gift that cuts out the hassle and makes premium brewing a breeze for your loved one. Take a look at these top pressies…

Style? Check.
Chic copper finish and easy brewing? Check and check.
Free tea? Absolutely check!
This La Cafetiere Infuser Teapot is a guaranteed way to light up a brew lovers Christmas. Choose your size and from our most popular loose leaf products for a premium pairing.
We've done all the work for you with this collection of high quality brewing essentials.
Receive 3 premium bags of loose leaf (of your choice), 1 tea swizzle and 1 La Cafetiere Barcelona Teapot.
This modern pot gets 5 stars, and it's not hard to see why. Here's what one customer thought…
"Lovely little teapot just right for the breakfast. The tea filter is brilliant no stray tea leaves and no strainer required."
Gifts to improve their tea drinking
Is the tea drinker in your life always on the hunt for the best brew? The best flavour? And the ultimate freshness?
End their search and seriously up their drinking game with these Christmas must-have gifts…

Flavours of baked apple, cinnamon, almond, star anise and vanilla pieces are added to premium Keenum and Ceylon to create Christmas in a cup.
With a warming walnut and cinnamon scent, you might wish you'd bought yourself a bag when your tea drinking companion tries this out!

Could it get any more festive than a bag of warming fresh loose leaf that looks like a holly bush?
Red peppercorns and sugared snowflake crystals create the Christmas look, which is enough to get any brew drinker excited when opening presents.
Flavours of clove, dark chocolate, brown sugar and toasted almonds are added into the mix to create a cup they'll enjoy all through Winter.

Looking for something a little fruiter and floral?
This rich, indulgent blend of dried rosehip and apple with hibiscus, ginger and citrus peel may just be the answer.
This is the perfect gift for anyone who's a fan of mulled wine, as this cup of sweet and spicy delight is sure to hit the spot on a cold Winter's Day.
Gifts for tea storage
Often overlooked, but equally as important.
If it's stored incorrectly, say 'see you later' to the freshness of your brew.
We've done the research for you on the best and most stylish storage options.
They are the perfect gifts that your loved one may forget to buy for themselves, but would greatly appreciate to receive at Christmas…

If you're looking for something truly special, look no further.
Does you friend stuff various bags and leaves into an old worn out tin?
Gift them this personalised box so they can neatly organise their growing collection.
Not only does this make brewing much easier, but they'll also be reminded of your thoughtful gift every time they make a cup.

Are you looking for a gift for someone who is a fan of a brew and Mary Berry? Well, you're in luck…
This pack of 3 delightful storage tins are sure to put a smile on the Mary Berry lover in your life. This collection features vintage style tins that will keep any bag of loose leaf fresh.
You also get to personalise this gift with a name on the lid.

Do you know someone that scurries round looking for spare pegs to secure their bag of tea?
Here's a simple solution that will make a big difference to their brew making.
This pack of four lovely biscuit design clips are an efficient way to keep bags of loose leaf fresh and full of flavour.
Gifts that are fun and unique
Looking for a present for the friend that seems to have everything?
You need to think outside of the box. Find a truly unique gift that even the most expert drinkers won't own in their kitchen.
We're sure you'll find something in this line up of fun and intriguing gifts…

If you live in our beloved hometown of Liverpool, then this skyline towel is a delightful gift that every family member will want in their kitchen.
There's also an option for the iconic Liver Building.
These are original designs that you won't find anywhere else and the towels are made from 100% cotton.

A delightful gift for anyone that enjoys a good pot of tea.
Not only will this provide extra warmth for your brew, it will also add style and sophistication to any kitchen or living room.
This Emma Bridgewater design receives 5 stars on the website and is praised for its high quality and workmanship.

If your gift receiver lives in the Liverpool area, this is an extra special gift that will make their Christmas.
Experience a delightful afternoon filled with delicious sandwiches, cakes, scones and of course plenty of tea and coffee.
It's valid for 10 months for 2 people and can be used all week round and year round.

I pity the fool who passed up on this brilliant gift set! (As Mr T would put it).
"Quit your jibber jabber & do the damn dishes fool!" and "Make me some damn tea fool!" are the two quotes that feature on this comical gift duo.
Made in the UK with 100% cotton and Earthenware (microwave and dishwasher safe), they are the perfect gift that is sure to get some laughs around the Christmas tree.

For the connoisseur who cares about style and design, these hand carved marble coasters are a beautiful present.
Available in cream, dark or light, these lovely designs are made from real high-quality marble.
This is a thoughtful gift that adds a touch of luxury to any household. (Plus there's the option of free gift wrapping!)

For the friend that just can't get enough of their afternoon tea, this set of four lip balms is a genius way to surprise them this year.
In this set you will receive four flavours; Early Grey, Strawberries and Cream, Victoria Sponge and Prosecco.
You can also personalise the box with their name and it will arrive in a delicately gift wrapped box.

Do you know someone that loves a brew so much that they really do own every brewing device and blend?
Well, we're pretty sure they won't have a delicious tea scented candle!
This large candle has notes of fresh tea leaves, bergamot, geranium and nutmeg.
It is presented in a beautiful glass jar that will arrive in a floral design gift box, and it has a generous 40 hours burn time.

Any brew lover would appreciate the freshness of growing their own jasmine plant.
This planting kit comes with full care instructions to help your gift receiver produce a flourishing creation.
Not only will it smell divine, but the white jasmine flowers will help produce a heavenly cup of jasmine tea.
Finding Special Christmas Gifts at Adams + Russell…
At the most special time of the year, we know how important it is to find that truly memorable gift to give to your loved ones.
That is why we created our special Christmas gifts range with specially designed sets, limited edition products and packaging.
We have also created a Christmas coffee gift guide for those who appreciate fresh coffee beans.